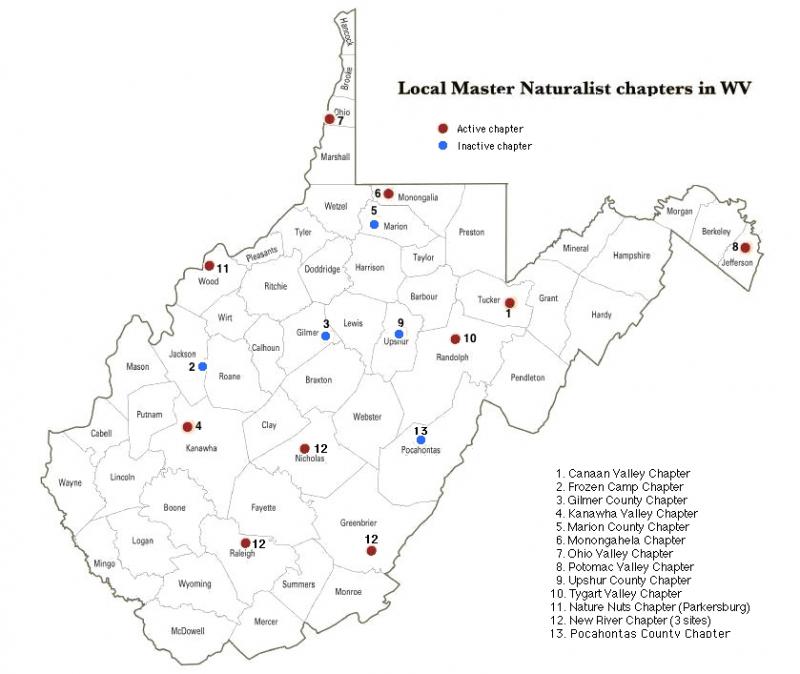 Chapter:
Master Naturalists of Canaan Valley (Tucker County)
Contact Person:
Andy Dalton
Email:
AndreaDalton64@gmail.com
Address:
c/o Andrea Dalton, 333 Buck Run, Davis, WV 26260
Phone:
304-704-2476
Class Schedule:
CV-Master-Naturalist-classes-2021-complete.pdf
As of:
6/4/2021
Chapter:
Greenbrier River Chapter (Greenbrier County)
Contact Person:
Adrienne Cedarleaf / Ken Hiser
Email:
Greenbrier.river.mn@gmail.com
Address:
Phone:
269-270-2340
Class Schedule:
As of:
Chapter:
Kanawha Valley Chapter (Charleston)
Contact Person:
Becky Linger
Email:
rebeccalinger@ucwv.edu
Address:
167 Older Road, Charleston, WV 25312
Phone:
304-357-4998
Class Schedule:
KVMN-Schedule-2021-05-04.pdf
As of:
5/4/2021
Chapter:
Mid-Ohio Valley Chapter (Parkersburg)
Contact Person:
Emily Grafton
Email:
emily.grafton@gmail.com
Address:
4805 9th Avenue, Vienna, WV 26105
Phone:
304-906-7846
Class Schedule:
2021MNSchedule.pdf
As of:
8/10/2021
Chapter:
Monongahela Chapter (Morgantown)
Contact Person:
Mike Vernon
Email:
Embryomaker2@gmail.com
Address:
Phone:
Class Schedule:
2021-MN-Mon-Class-Schedule.pdf
As of:
8/11/2021
Chapter:
New River Gorge Chapter (Fayetteville)
Contact Person:
Lewis A. Cook
Email:
lewisacook@suddenlink.net
Address:
846 Maple Avenue, Fayetteville, WV 25840
Phone:
304-663-3994
Class Schedule:
N/A
As of:
N/A
Chapter:
Ohio Valley Chapter (Ohio County)
Contact Person:
Molly Check
Email:
mcheck@oionline.com
Address:
Phone:
Class Schedule:
As of:
Chapter:
Potomac Valley Chapter (Shepherdstown)
Contact Person:
Rich Brager
Email:
megandrichb@aim.com
Address:
75 Spillway Court Martinsburg, WV 25405
Phone:
301-693-8711
Class Schedule:
2021-PVMN-Class-Schedule–20210918.pdf
As of:
9/18/2021
Chapter:
Tygart Valley Chapter (Elkins)
Contact Person:
Tommy Zeitz, Chapter Coordinator
Email:
tezeitz@aol.com
Address:
PO Box 520, Davis, WV 26260
Phone:
304-866-7418
Class Schedule:
TVMN-2021-CLASS-SCHEDULE-20210901.pdf
As of:
8/30/2021
Contact information for some of the local chapters is available on the chapter websites. Use the info@mnofwv.org email link below for further information.
If you are interested in starting a new local Master Naturalist Chapter, please let us know and we will be more than happy to help you get started.